Posted by Jennifer Shutwell on November 17th, 2015
I believe paperless offices exist, and the potential for more is increasing at a rapid rate.
The paperless office was predicted back in the 1970's when computing first advanced its reach and distribution power in the office. Why hasn't the paperless office become commonplace?
MYTH 1: The paperless office will never happen.
False. Paperless business processes are increasing every day in every industry. One of the ways to see the potential of paperless offices is utilizing the Technology Adoption Lifecycle by Everett M. Rogers (March 6, 1931–October 21, 2004). According to the late Mr. Rogers, over time, any new innovation or idea follows the adoption lifecycle through a mathematically based bell curve and moves through 5 phases: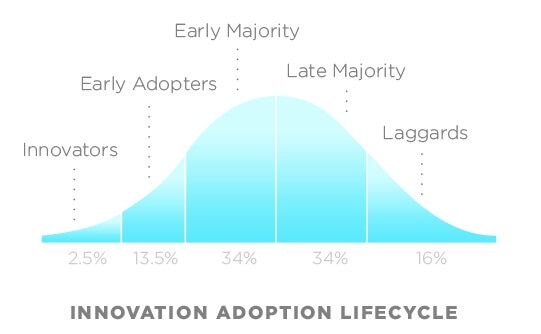 (Photo Credit: Wikipedia)
The first paperless office I saw was in 1997 (Chicago Loop). Here's how the "early adopter" worked:
The CEO of a company with 50 employees did not allow paper in the office (policy). The staff in a centralized mailroom opened, scanned and emailed to the intended recipient. Junk mail was either thrown away, or instructed towards electronic mail.
It's a simple paperless strategy, but depending where your business is with its adoption of technology...it may not be that simple.
Here's another story about a local Fortune 500 company. Last summer, they transformed their paper process for selling cars to an integrated workflow. As a result, client trust improved, because now they are more responsive and transparent.
Related Video: A Fortune 500 company and a new paperless experience.
A full year later, Analysts at Zacks upgraded this company from neutral to outperform.
I hope you took two minutes to watch the video. For this story to hit home, all you have to do is remember the last time you bought a car from a dealer. What was that experience like?
For me, it was 2010. I did not have a plan to buy a car, and I had to do it last minute with no research. My 6 and 9 year old kids were with me and it took over seven hours on a Saturday. It was grueling and hellish for us. I left feeling completely worn down, teetering on buyers remorse from not knowing if I had gotten screwed or a decent deal.
A few days later I went back to get my license plates. During the pick-up, the manager asked, "How was your experience?" It wasn't until he showed me everything on his screen inside the system and that I felt comfortable that my negotiation skills had worked.
MYTH 2: Document management, electronic storage, traffic on the internet and the ability to print from your smartphone will increase paper in your office.
False. This linkage has not proven true. Forget the stats circulating from before 2012. They are old news. Depending where you are in the world, you may be hearing weird predictions. Some believe internet traffic or smartphone use will increase the potential of paper in your office.
The internet printing hype goes all the way back to 2007. One of the large printer manufacturers bought a few start-ups and spent $300 million on a marketing campaign to demand Print 2.0 into existence, but it failed.
Further, the adoption of smartphones is evident to everyone, but yet, printing from them is not. Actually printing from smartphones has proven so difficult that competitors have formed an unlikely alliance to make it easier. Printing from phones and tablets may happen for a few, but I don't consider printing from a smartphone an innovation. At best its a way to pacify the laggards in the technology adoption life-cycle. Just ask yourself what printing has to do with optimizing your business and relationships with your customers?
Do your own print assessment in your office. Look at the paper-based processes and describe the feeling and level of productivity associated. Even if you are part of the "resistance" and demanding that you have the ability to print on paper instead of learning new ways to work, more and more you will be saying and hearing...
"Well, another day has passed. I didn't print once."
MYTH 3: The paperless office is more "green".
Mostly false. The paperless office is happening because of the rapid adoption of technology as costs decline. Often, early adopters would use "green" messages and statistics to ignite a faster change with people's behavior when printing. These messages were often about saving trees and water, and reducing waste and carbon footprints.
Changing behaviors of people is the most cost effective way to manage print in the office. The amount of energy consumed to store information is incalculable. Like with paper, the options you have to create, share, and store data depends on your own behavior and policies of the company.
BONUS MYTH: It matters whether you use ink or toner on paper.
False. These days printing in the office with ink or toner doesn't matter except to maybe the laggards.
"The least expensive print in your office is the one you didn't print."
There is no denying that technology is eliminating paper in the office. So yes, I believe paperless offices exist, and have since at least 1997. I portend we are leaving the Early Majority phase and entering the Late Majority phase of the paperless office by the end of this year. I'm curious about your company, where do you see yourself in the Technology Adoption Lifecycle? Even more, what is your rate of decline with paper in your office? Check out HP's trends with printing revenue and profitability since 2002. Look familiar? (See innovation adoption lifecycle chart above.)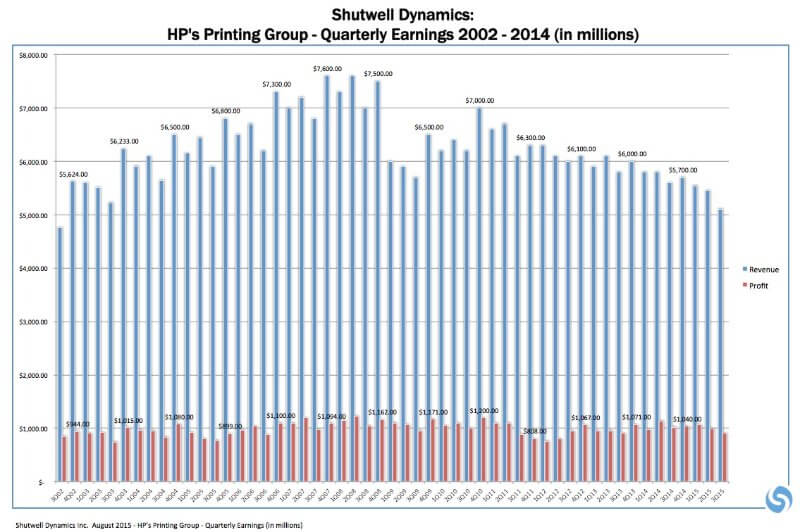 Jennifer Shutwell
is an Enterprise Account Executive at PrinterLogic. She works closely with large customers to eliminate the massive headaches that are caused by print servers and empowers her clients to centrally manage their entire print environment from a single pane of glass. Before joining PrinterLogic, Jennifer put her 20 plus years of experience in managing imaging, printing and technology strategies to work as owner and president of Shutwell Dynamics, Inc.