Posted by Andrew Miller on December 7th, 2015
If ever there were a testament to PrinterLogic's incredible scalability, it would be the case study of a federal government agency carried out by the independent research firm TechValidate (TVID: 9B7-248-E75).
This agency had more than 5,000 networked printers and over 100 print servers before installing PrinterLogic across its 100+ sites. With a hardware count and distributed environment like that, you can imagine the massive logistical implications that any change to its enterprise print backbone would have.
And yet this federal government agency was able to fully install PrinterLogic and begin eliminating its 100+ print servers in just one month. That had immediate and lasting benefits, such as:
The number of calls to the service desk regarding print-related issues dropped by 70%.
The time the agency spent on print management was slashed by 50%.
Usage of print consumables such as toner and paper were also cut by half.
Printer downtime fell by 30%.
The agency's remote server infrastructure experienced a 15% reduction.
Those reductions corresponded to quantifiable, real-world cost savings. This federal government agency was able to completely recoup its investment in PrinterLogic within 18 months. Everything since then has been a bonus—to the tune of a whopping 400% return on investment (ROI). On the way to achieving such stunning cost efficiencies, PrinterLogic enabled the organization to do everything it had set out to do, namely:
Consolidate its server infrastructure through centralized print management
Radically simplify the printer installation process for end users
Effortlessly manage Direct IP printing
Deploy printers easily and without having to resort to scripts and group policy objects (GPOs)
Agency representatives were especially impressed with this last point. "PrinterLogic makes deploying printers simple," they said in a short-but-sweet testimonial. They were so impressed, in fact, that they also rated PrinterLogic as "excellent" across the board. Broken down, that means our enterprise print management solution scored top marks in terms of:
Printer driver management
Ease of deployment
Speed of deployment
Ease of use
Printing security
The federal government gets an awful lot of flack for not being cost-effective and streamlined enough. As this TechValidate case study shows, this particular agency is using PrinterLogic to address both in pretty significant ways.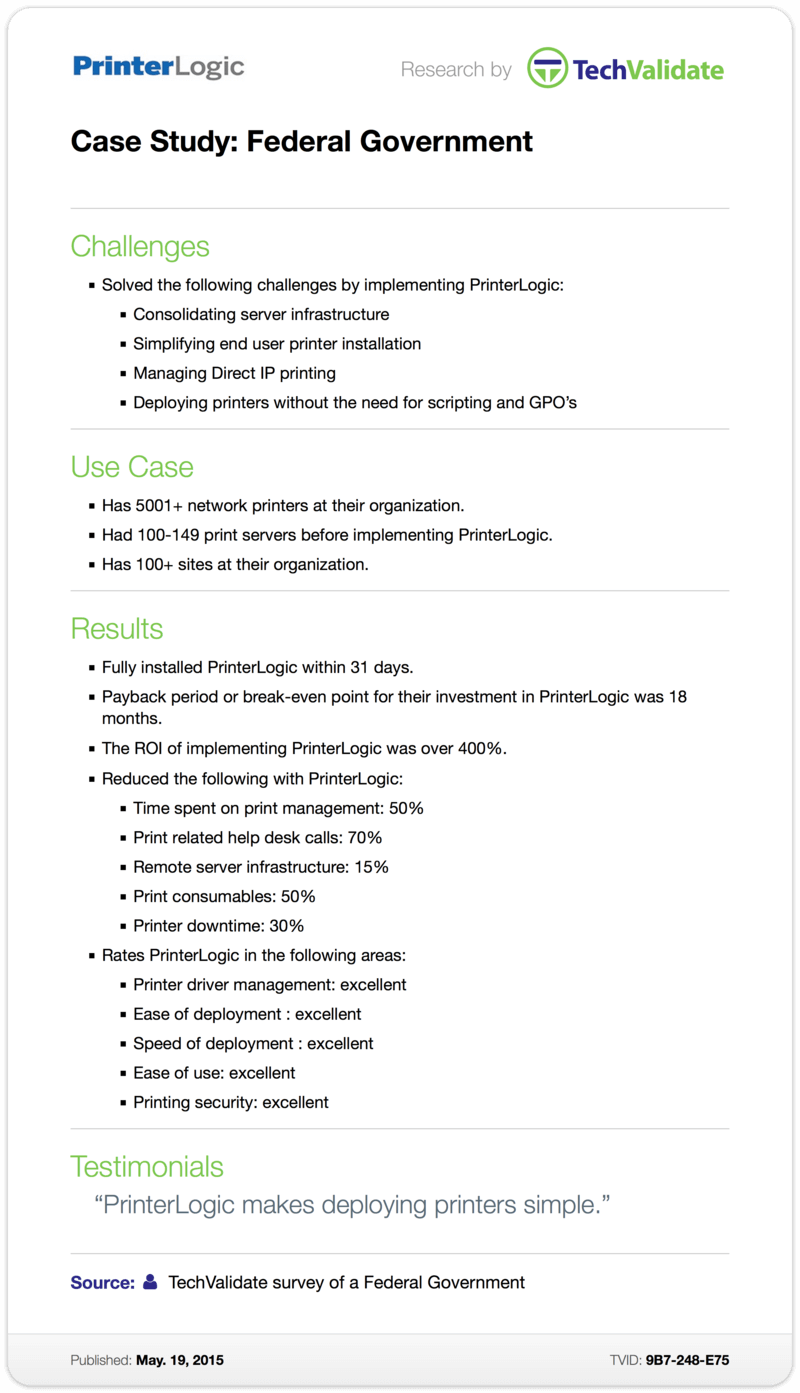 Andrew Miller
As Vice President of Marketing for PrinterLogic, it's my privilege to share our Eliminate Print Servers message through our marketing channels. We recently engaged TechValidate to survey our customers. The results were staggering: Almost 100% would recommend PrinterLogic; ROI over 100% for 88% of our customers; 99% report ease of use as great or better; 84% installed our solution in less than 10 days; and much more. Over the coming weeks and months, I will be sharing more results from the survey through our blog. I hope you enjoy the information. Don't hesitate to comment or contact us if you have any questions.