Slow speeds. It's the unforgivable sin in modern IT. We want everything fast. Patience is supposedly a virtue, but it's a virtue that modern users in today's fast-paced world of convenience and cutting-edge consumer technology tend to forget. Think of Veruca Salt, the spoiled little rich girl from Willy Wonka and the Chocolate Factory, sing-shrieking, "I don't care how, I want it NOW!" and you've successfully captured the attitude of many an end user.
Of course, Veruca is talking about a delay in getting candy, whereas I'm talking about the delay caused by slow network printing. Think of that agonizing eternity from when you click "Print" to the moment when the hum of your MFP finally starts. Depending on the type of printing environment you have, this could take several seconds to several minutes. And when you print, you want it NOW!
Let's look at a few possible causes for slow network printing and some solutions to this problem.
Possible culprits
Could the cause of slow network printing be the Windows print server in your data center with poor WAN connectivity to your remote branch office? Although it sounds like one of the solutions in a game of Clue, it is a possible culprit. It's also the reason why many organizations opt for a distributed print server model over a centralized model to help cut out WAN-related printing challenges and localize network traffic. But beware: Moving to a distributed model can be a very costly way to address slow print speeds.
WAN-related print challenges are especially common in many Citrix environments. Whether you are using Citrix auto-creation or printer redirection, you will need locally created printers that send jobs back to the data center or to a local print server. The Citrix Universal Print Driver (UPD) does offer compression—but that's only when the jobs travel to the Citrix server. Once there, it can expand up to 80% after rendering, at which point it has to make its way to your print server and finally to your printer. For a more detailed explanation of Citrix-related printing problems, check out this blog post on three common Citrix printing problems and how to solve them. Also see this post, which deals specifically with slow printing in Citrix.
Another common printing problem is when a printer tries to do too much. You've probably never thought of your printers as people-pleasers, but they are. They try to do everything for everyone, and sometimes all at once. And when there is a large client pool you can expect even more problems to arise. Things like splitting (i.e., prioritizing) print jobs and job size are factors that might make your network printing speed slow.
Some short-term fixes for slow network printing
To improve print speed in Windows, take a look in your system settings and find the printer in question. Select "Properties" and ensure that the option under the "Advanced" tab labeled "Spool print documents so program finishes printing faster" is selected along with the sub-selection "Start printing after last page is spooled". Finally, you'll want to check the "Print spooled documents first" option. These steps will ensure that the splitting doesn't happen and that small print jobs don't get stuck behind large jobs that take forever to spool.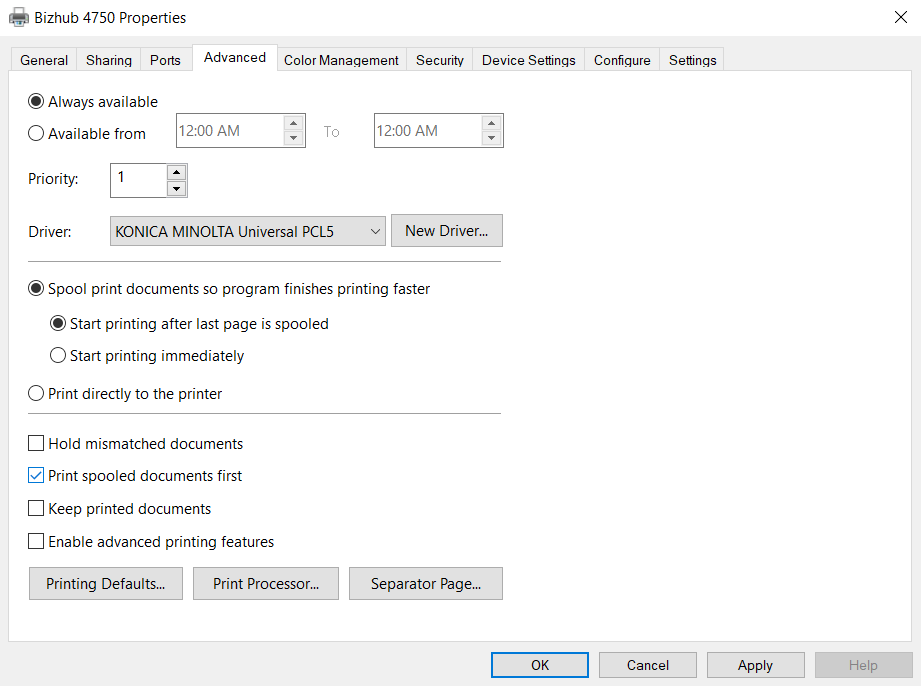 In some cases, you might want to consider a hardware-based approach. You might find that using a dedicated hard drive for spooling, especially an SSD (solid-state drive), could improve things. Another option is the elimination of unused drivers. Although they aren't being used in your repository, any lingering monitoring software they use could be eating up precious RAM. Maybe a bigger, better, more expensive print server might help?
The long-term print-management solution
While the options mentioned above may be viable, they can be temporary, costly, or not guaranteed to work. As you decide on the best route for your organization, consider looking into PrinterLogic as a permanent solution to resolve your network printing challenges so you can start printing NOW instead of waiting!
Unlike the options listed above, PrinterLogic can eliminate your print-server infrastructure and optimize the way you manage printers and the way that they perform. With our managed direct-IP printing solution, you will be able to eliminate latency concerns that cause slow network printing while still retaining a centrally managed environment.
Whether you are in the SMB space or a major enterprise organization, PrinterLogic can successfully convert your printing environment into an optimized, centrally managed direct-IP printing model that eliminates the single point of failure created by print servers, saves time by eliminating scripting and GPOs from the deployment process, and is completely printer-agnostic. PrinterLogic offers both a cloud-based solution called PrinterCloud as well as an on-premises solution; each includes a fully supported complimentary proof of concept. Sign up for the demo today.