Posted by Andrew Miller on March 28th, 2016
As regular visitors to this blog will know, the independent research firm TechValidate has been busy comparing PrinterLogic's stated benefits with customers' real-world experiences.
That effort has left us with plenty to feel confident about. Because in survey after survey, TechValidate has found that PrinterLogic brought proven and consistent results to a wide variety of companies across an equally wide variety of industries. And a recent case study with a Fortune 500 energy and utilities company (TVID: 69D-BC1-93B ) has demonstrated more of the same.
This particular company currently has over 1,000 network printers distributed across more than 100 physical locations. Prior to installing PrinterLogic, the company had 26+ print servers. That's a large and complex print environment by any standards, and with traditional print management methods in place there were a number of issues:
Print-related WAN traffic was far too high
End-user printer installation was too complicated
Printers and drivers could not be managed efficiently enterprise-wide
Routine deployment of printers required finicky scripts and group policy objects (GPOs)
Admins had limited visibility into the status of physical printers
Single points of failure resulted in interruptions to the enterprise print services
This Fortune 500 energy and utilities company chose to migrate to PrinterLogic as a single comprehensive solution that would address all these problems. In just one month, the company rolled out PrinterLogic across its entire organization. By the six-month mark, the return on investment (ROI) was so significant that PrinterLogic had already paid for the cost of its installation. Since that point the ROI of implementing PrinterLogic has exceeded 100%.
That ROI took the form of massive hardware and efficiency savings:
Print-related calls to the service desk were reduced by an incredible 70%.
The amount of remote server infrastructure also saw an amazing 70% reduction.
The time the company was spending on print management dropped by 50%.
Printer downtime across the organization was cut by half, providing a huge boost to productivity.
"PrinterLogic reduced help desk calls and standardized our printer organization," said a company representative. That representative went on to rate PrinterLogic "amazing" in terms of:
Ease of deployment
Speed of deployment
Ease of use
PrinterLogic's effortless printer driver management earned a "great," and its printing security got a rating of "excellent." With results and recommendations like that, just imagine what PrinterLogic could do for your organization!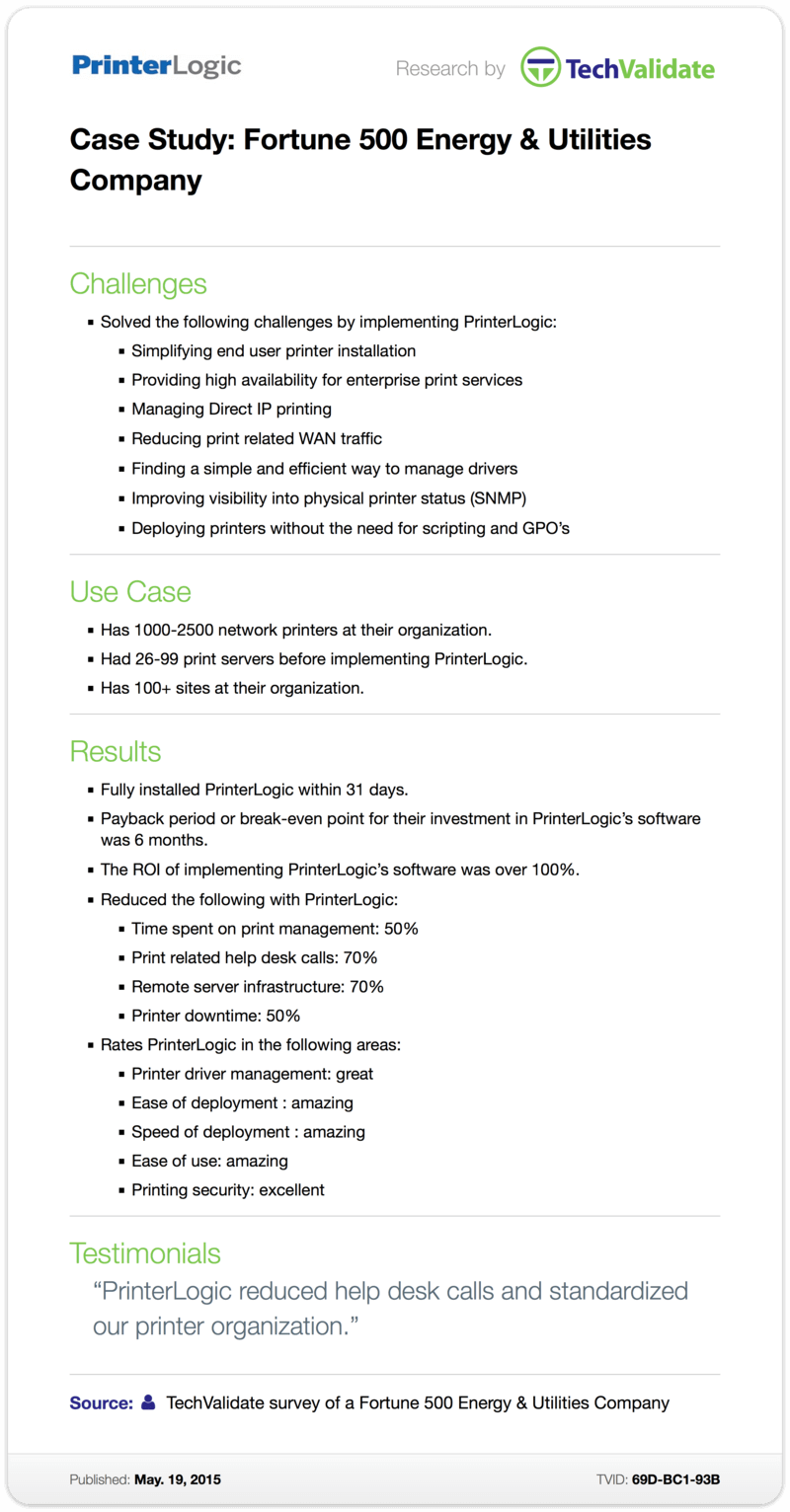 Andrew Miller
As Vice President of Marketing for PrinterLogic, it's my privilege to share our Eliminate Print Servers message through our marketing channels. We recently engaged TechValidate to survey our customers. The results were staggering: Almost 100% would recommend PrinterLogic; ROI over 100% for 88% of our customers; 99% report ease of use as great or better; 84% installed our solution in less than 10 days; and much more. Over the coming weeks and months, I will be sharing more results from the survey through our blog. I hope you enjoy the information. Don't hesitate to comment or contact us if you have any questions.