Posted by Andrew Miller on August 3rd, 2015
Earlier today, I was looking through the results of our customer survey conducted by TechValidate. As we have discussed, the firm surveyed hundreds of our customers on various aspects of their experience after deploying PrinterLogic as their chosen enterprise printer management solution. Questions posed to the respondents concerned install time, ROI, added value, security and more.
One customer, a Fortune 500 Insurance Company, saw over 200% ROI using PrinterLogic's print management solution in a virtual environment. It also reduced help desk calls by more than 75%, while at the same time decreased server licensing and administrative support costs. In addition, the company gives us high marks for:
Printer driver management—Excellent
Ease of deployment—Amazing
Speed of deployment—Excellent
Ease of use—Amazing
Printing security—Great
Below is the full case study that provides more details on the company's successful implementation. We are proud to enable serverless printing and centralized printer management for organizations of all sizes. If you have any questions, don't hesitate to leave a comment below.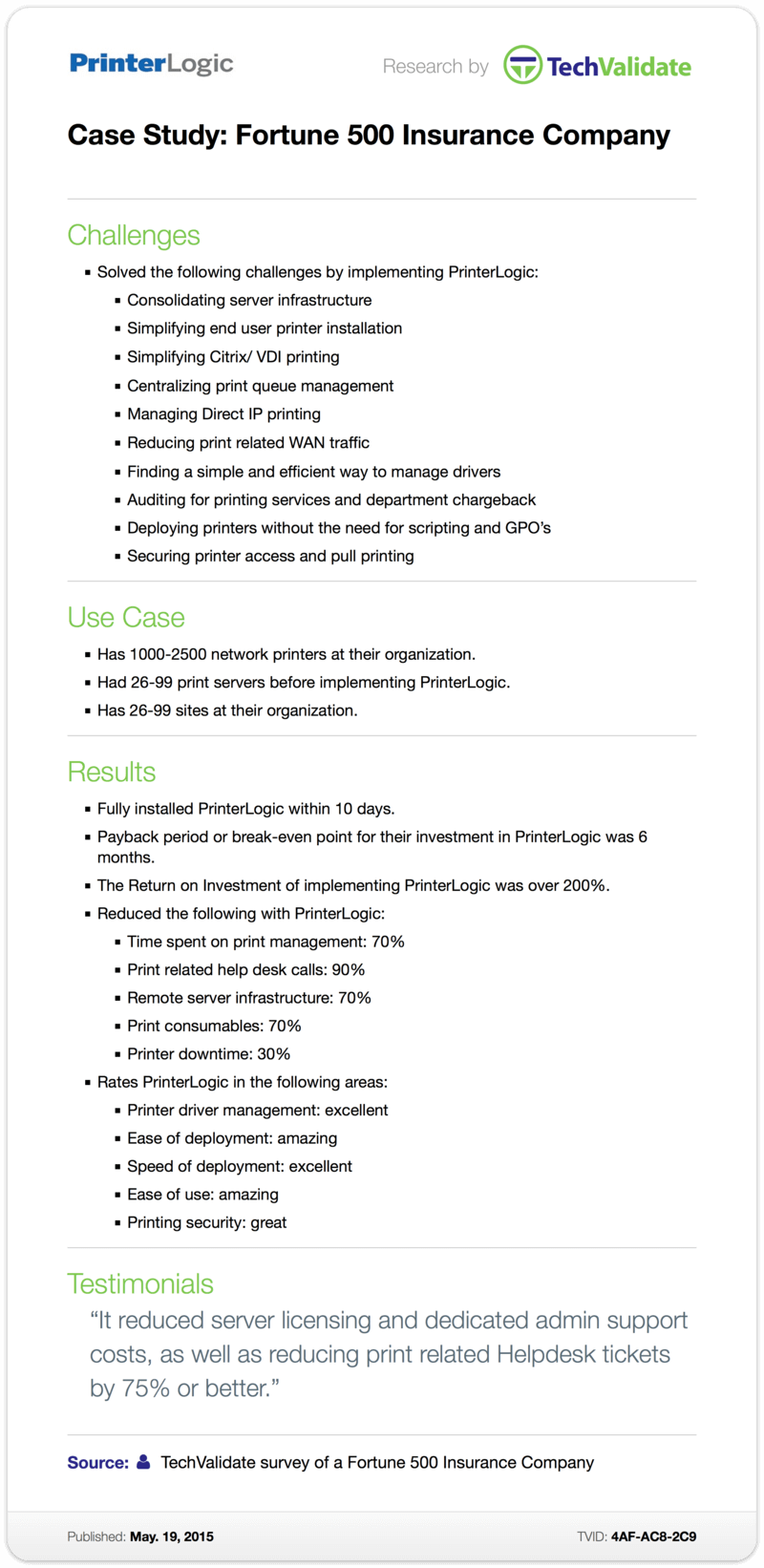 Andrew Miller
As Vice President of Marketing for PrinterLogic, it's my privilege to share our Eliminate Print Servers message through our marketing channels. We recently engaged TechValidate to survey our customers. The results were staggering: Almost 100% would recommend PrinterLogic; ROI over 100% for 88% of our customers; 99% report ease of use as great or better; 84% installed our solution in less than 10 days; and much more. Over the coming weeks and months, I will be sharing more results from the survey through our blog. I hope you enjoy the information. Don't hesitate to comment or contact us if you have any questions.