Posted by Andrew Miller on October 5th, 2015
The independent research firm TechValidate recently surveyed representatives from a large industrial manufacturing company to talk about their experience with PrinterLogic. The case study (TVID: CFE-267-3C5) was enlightening for several reasons.
To begin with, this company had a laundry list of printing problems it needed to address. Issues like:
Printing security, including the ability to pull print
Printing in virtual sessions (e.g., Citrix, VDI)
Inefficient printer, driver and queue management
Excessive and fragmented server infrastructure
Difficulty deploying printers
Overly complex end-user printer installation
PrinterLogic delivered results on not one, not some, but all those counts. Thanks to its efficient centralized print management that converts Windows shared printers into direct IP, its seamless integration with virtual environments like Citrix and VMware, and its intuitive self-service printer installation portal, PrinterLogic is able to combine powerful administrative features with security and simplicity for IT as well as the end user. As this industrial manufacturing company's experience shows, PrinterLogic isn't a narrow remedy for a single limitation of your print environment—it's a holistic solution that addresses multiple areas in one fell swoop, ultimately saving costs and resources across your entire organization.
We've also seen before how PrinterLogic has performed for companies in the insurance, transportation and education sectors. Each sector—and every company within that sector—has different needs, different real-world use cases. For example, prior to installing PrinterLogic, this industrial manufacturing company had 50+ printers, five print servers, and more than 25 physical sites—variables that will differ from organization to organization. And yet the quantifiable benefits the company experienced with PrinterLogic are similar to the hundreds of other companies that have migrated to our enterprise print management solution:
Time spent on print management dropped by 50%
Print-related calls to the service desk were also cut in half
Usage of print consumables like toner and paper was reduced by 15%
The ROI of implementing PrinterLogic is 100%—and counting
PrinterLogic was fully installed enterprise-wide in 24 hours
In qualitative terms, the company's experience is just as impressive. The ease of deployment, the speed of deployment and the ease of use all scored ratings of "amazing." Printer driver management and printing security both got rated as "excellent."
And in their own words? A company representative had this to say: "Our employees love PrinterLogic's self-service capabilities. On the IT side, we don't have to worry about a rogue printing process or printer queue interfering with business critical print jobs."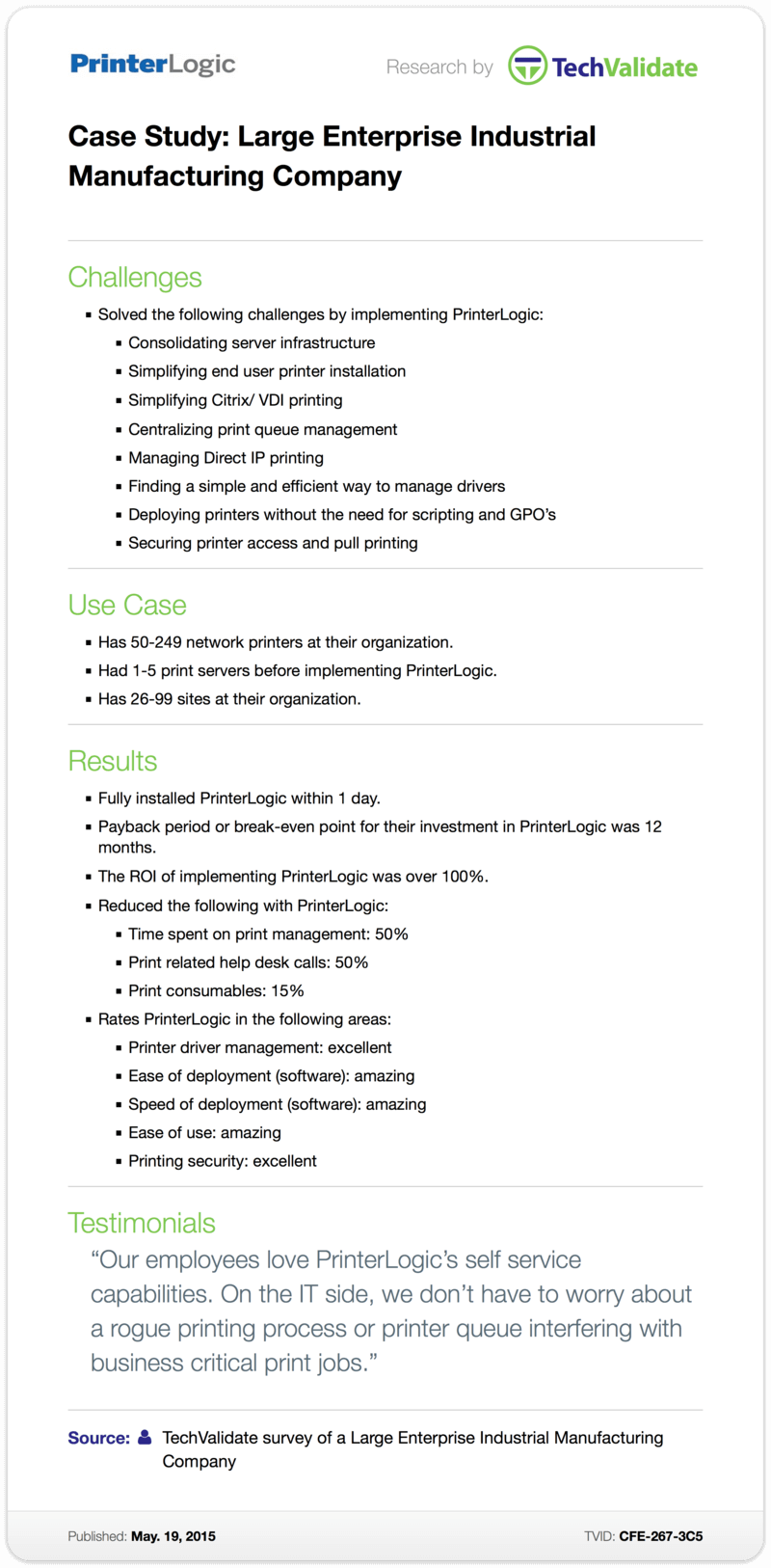 Andrew Miller
As Vice President of Marketing for PrinterLogic, it's my privilege to share our Eliminate Print Servers message through our marketing channels. We recently engaged TechValidate to survey our customers. The results were staggering: Almost 100% would recommend PrinterLogic; ROI over 100% for 88% of our customers; 99% report ease of use as great or better; 84% installed our solution in less than 10 days; and much more. Over the coming weeks and months, I will be sharing more results from the survey through our blog. I hope you enjoy the information. Don't hesitate to comment or contact us if you have any questions.