Posted by Andrew Miller on February 22nd, 2016
You're no doubt familiar with the slogan, "Better living through chemistry," which was adopted by a large-enterprise chemicals company all the way back in 1935.
Well, after a different large-enterprise chemical company's experience with our own print management solution, we might coin the tagline, "Better living through PrinterLogic." That's based on the findings of a case study (TVID: 086-195-D66 ) conducted by the independent research firm TechValidate.
Prior to installing PrinterLogic, this particular large-enterprise chemical company had between 250-499 network printers, under five print servers, and between 2-5 physical locations. After fully installing PrinterLogic enterprise-wide—which, incidentally, took less than five days—the company experienced the following results:
The time the company's IT staff spent on print management plummeted by 90%.
Printer downtime was slashed by 90%.
The number of print-related service desk calls also fell by 90%.
Remote server infrastructure shrank by 70%.
And usage of print consumables (e.g., toner, paper) dropped by 70%.
Along with those quantifiable outcomes, here's what else PrinterLogic enabled the company to accomplish that its previous print management solution could not:
End-user printer installation has been simplified through PrinterLogic's intuitive self-service portal.
Print-related WAN traffic has been reduced, thanks to PrinterLogic's intelligent use of bandwidth.
Printers can be deployed without resorting to scripts or group policy objects (GPOs)
Queue, driver and printer management is centralized and more efficient.
Comprehensive auditing tools are now in place, along with a departmental chargeback policy.
"PrinterLogic has made it easier for end users to connect to a network printer. It has also provided the IT staff with a better and easier way to manage the queue," said a company representative. The company's enthusiasm for PrinterLogic is reflected in how it ranked its new print management solution on a graded scale. Printer driver management, ease of deployment, speed of deployment, ease of use, and printing security all earned a rating of "excellent."
And in dollar terms? This large-enterprise chemicals company saw a complete return on its investment in PrinterLogic within 18 months. That means every efficiency since then—such as the staggering reduction in print consumables or the increase in printer uptime—has added to the return on investment (ROI).
These days, this large-enterprise chemicals company enjoys more streamlined printer management, huge cost savings, and incredible productivity gains. That's better living through PrinterLogic!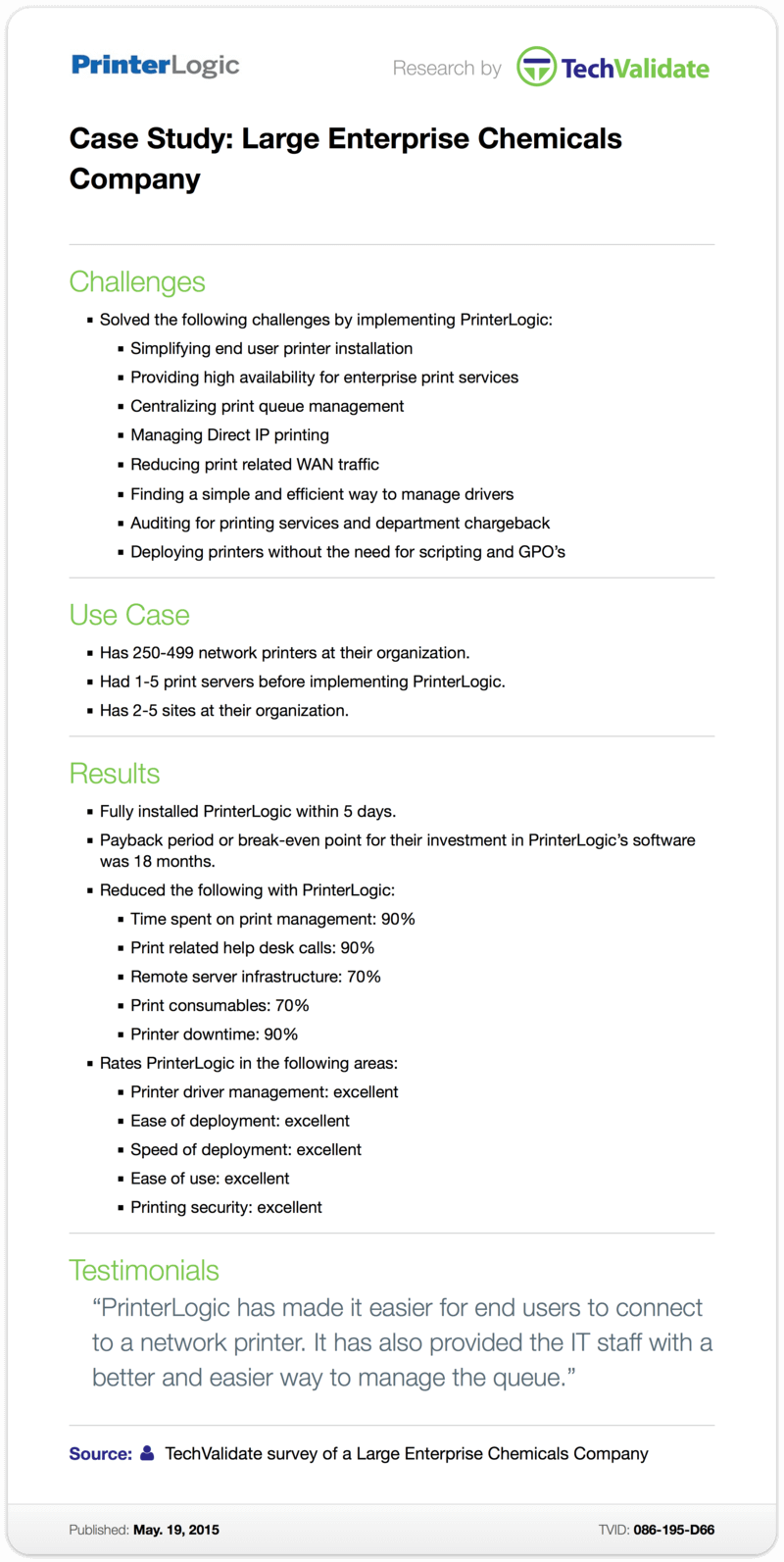 Andrew Miller
As Vice President of Marketing for PrinterLogic, it's my privilege to share our Eliminate Print Servers message through our marketing channels. We recently engaged TechValidate to survey our customers. The results were staggering: Almost 100% would recommend PrinterLogic; ROI over 100% for 88% of our customers; 99% report ease of use as great or better; 84% installed our solution in less than 10 days; and much more. Over the coming weeks and months, I will be sharing more results from the survey through our blog. I hope you enjoy the information. Don't hesitate to comment or contact us if you have any questions.