Posted by Andrew Miller on January 11th, 2016
There's a common need that transcends an organization's industry, size and IT requirements: the need to print. That's as true for companies providing financial and legal services as it is for those that operate in the agricultural sector. And with the need to print comes the need for an efficient, reliable print environment that is hardy enough to handle the toughest printing demands day after day while being flexible enough to accommodate future change. That's why so many organizations that are looking for a better print management solution turn to PrinterLogic.
The independent research firm TechValidate was curious to see whether PrinterLogic was meeting the expectations of one medium-enterprise agriculture company and the challenges of its print environment, so it recently produced a case study (TVID: 7DC-F71-277) about the experience.
Whereas most of our customers choose to implement PrinterLogic to eliminate print servers and their attendant costs, this company had used a direct IP solution before implementing PrinterLogic. Yet its IT team still wanted to be able to:
Manage all the networked printers centrally and more efficiently
Simplify routine printer installation for end users of all skill levels
Deploy printers without having to deal with time-consuming scripting and group policy objects (GPOs)
This company had fewer than 250 network printers, but these devices were spread across 13 sites. That made centralized administration and user self-service—PrinterLogic's forte—all the more important.
It took only one day for this medium-enterprise agriculture company to fully install PrinterLogic throughout the entire organization. After just twelve months, the savings associated with PrinterLogic had paid for the cost of its implementation, and the return on investment (ROI) since then has far exceeded 100%.
As proof of PrinterLogic's far-reaching effects, those savings were derived from several aspects of the overall print environment. The company estimated a 15% reduction in all of the following areas:
Time spent managing printers across the enterprise
Print consumables such as toner and paper
Overall printer downtime
Calls to the service desk on print-related matters
The last point left the biggest impression on the company. When asked how PrinterLogic had transformed the print environment for the better, a spokesperson said, "It has cut down on IT having to help users add a printer when they go to one of our 13 locations. Those calls have stopped."
That explains why this medium-enterprise agriculture company had such high ratings for PrinterLogic right across the board. Our print management solution earned a solid "excellent" in every single one of the following categories:
Printer driver management
Ease of deployment
Speed of deployment
Ease of use
Printing security
Results like these indicate one thing: Regardless of your organization's size or sector, if you have a need to print, you have a need for PrinterLogic's cost- and resource-saving print management.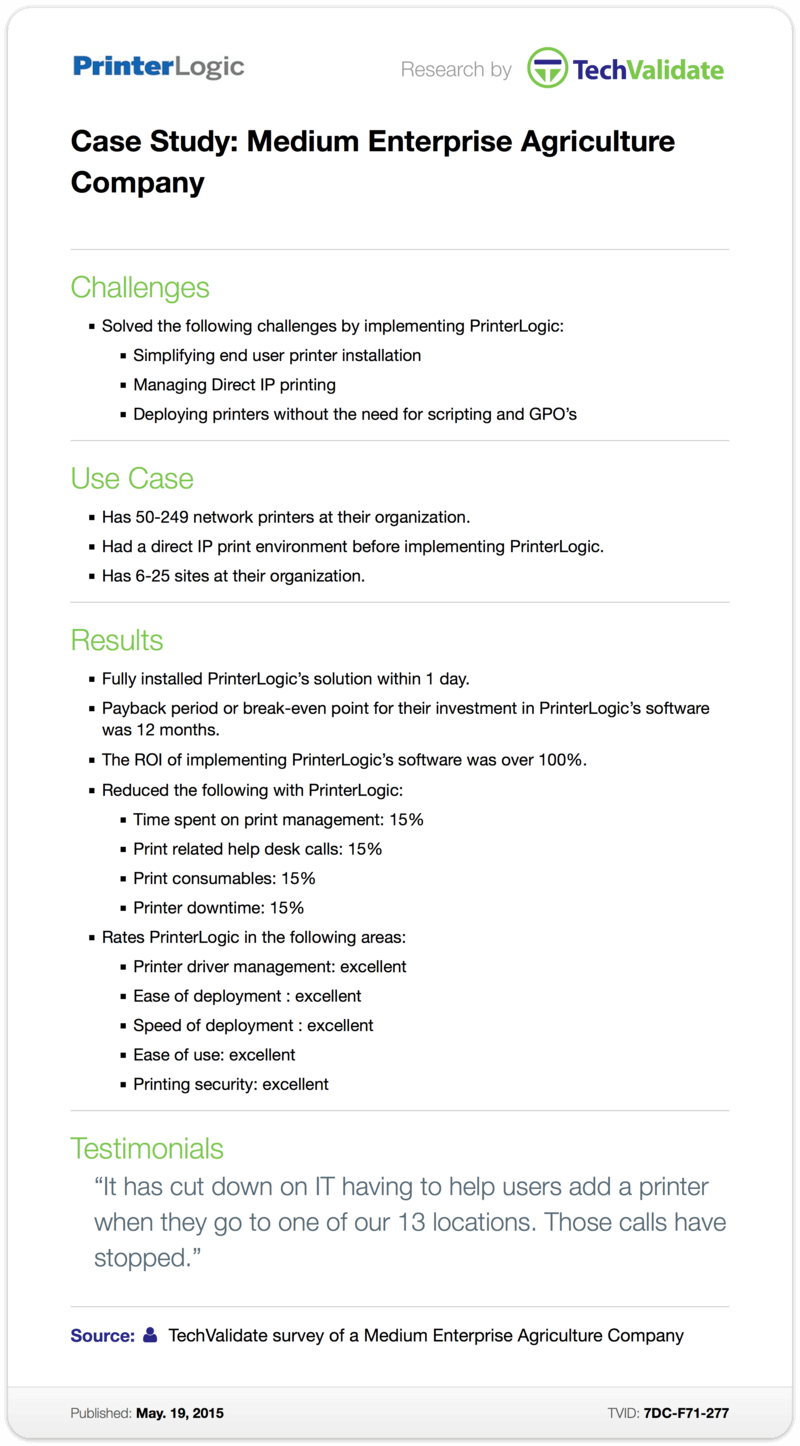 Andrew Miller
As Vice President of Marketing for PrinterLogic, it's my privilege to share our Eliminate Print Servers message through our marketing channels. We recently engaged TechValidate to survey our customers. The results were staggering: Almost 100% would recommend PrinterLogic; ROI over 100% for 88% of our customers; 99% report ease of use as great or better; 84% installed our solution in less than 10 days; and much more. Over the coming weeks and months, I will be sharing more results from the survey through our blog. I hope you enjoy the information. Don't hesitate to comment or contact us if you have any questions.