Not long ago, I was asked, "Why should I stop using free GPOs and pay for a service?" Let's explore how GPO printer deployments work, compare that with using startup scripts, and then discuss printer deployment and management using PrinterLogic's solution.
Group Policy Objects (GPOs) are typically managed by domain controllers on a network. They define actions or settings that individual computers apply during login. Administrators can build out these policies with minimal effort, but there are tradeoffs.
GPOs are easy to set up, but aren't always dependable. They have to replicate to all existing domain controllers before workstations can enforce the new policies. Replication can be inconsistent—especially when migrating from an old server OS to a new one. What's more, workstations have to query their Active Directory server and execute the policy before a GPO deployment is complete. If there's a mixture of desktop OS versions, replication consistency goes down.
Serious GPO printer deployments usually need multiple GPOs to target the right users, which can be hard to manage down the road. The bigger an organization, the more likely (and often) issues surface. For all these reasons, I don't recommend that anyone depend on GPOs for printer deployments.
An alternative to creating GPOs is using startup scripts. These can be paid for or developed by in-house IT staff. Talented script writers can create scripts to deploy printers to computers in certain IP address ranges, to Active Directory users, etc. While better than GPOs, there are some downsides to scripts:
They demand more technical competence
Logon performance is reduced
Operational overhead is increased
Recently I walked into a company where scripts and GPOs were set up for auto-deployment of printers. They couldn't figure out how the last guy set things up, so we had start over. Documentation is key.
To mitigate the cost, risk, and headache of using GPOs—or any other method for deploying printers to end users—I recommend PrinterLogic. The application's centralized management interface can deploy printers based on:
Active Directory User, Computer, Group, Container, OU
IP address range of computers (great for traveling users)
Hostname (of computers)
MAC address (of computers)
Advanced Group (combination of the above criteria)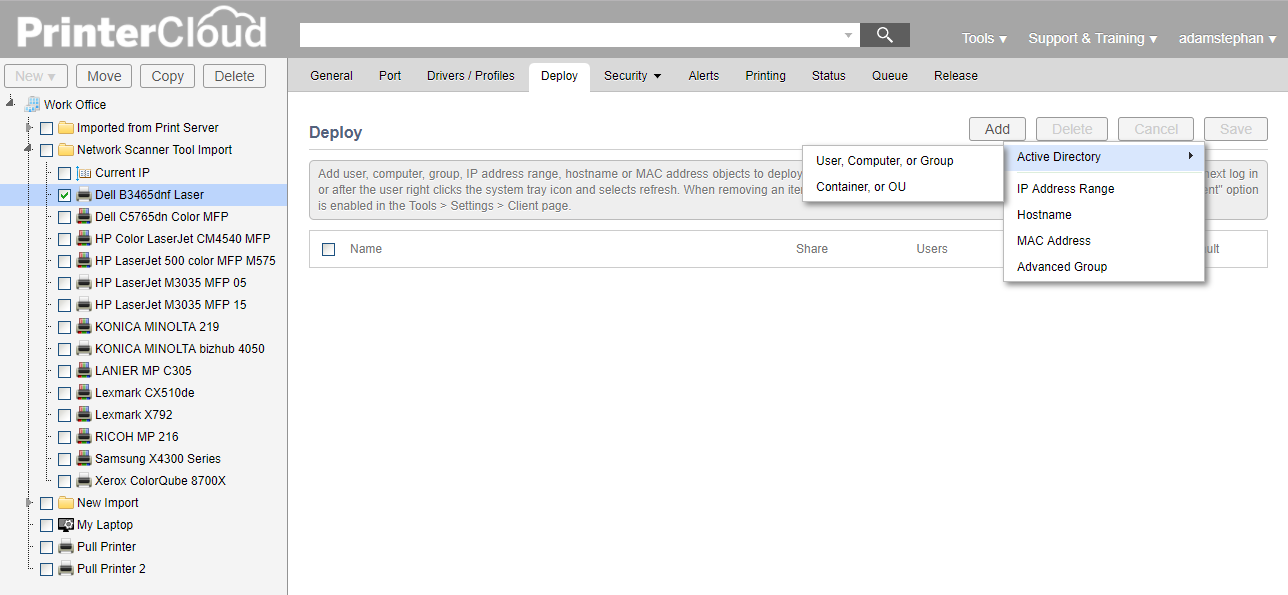 Figure 1: The PrinterLogic SaaS (formerly PrinterCloud) deploy menu offers a number of targeting options for printer delivery.
So, what makes this better than GPOs, and easier than scripts? PrinterLogic, is more dependable than GPOs because it's managed by a small desktop application that's been designed from the ground up for reliable, low-overhead communication.
It's easier than scripts because deployments are handled by a simple-to-use web interface. PrinterLogic lets you manage direct-IP connected printers without a print server.
Other benefits include:
No single point of failure
Reduced WAN traffic
Lower infrastructure cost
Centralized management in the cloud
One place to look for errors
Statistics and auditing
Driver management
Customers love to tell me about the time they save using PrinterLogic to auto-deploy printers. Helion Automotive Industries and Lufthansa Technik AG both use our solution to reduce IT overhead and streamline their print networks.
The best way to see these tools in action is to go to https://www.printerlogic.com/printercloud/ and click "Start Trial."