Posted by Brian Wistisen on August 15th, 2019
In Printer Installer 19.1, we've taken what was already great about our serverless printing software and made it even better. The new release adds comprehensive support for secure release printing on Canon MFPs, includes several other enhancements, and addresses dozens of customer requests that help improve the PrinterLogic experience for admins and end users.
Canon-certified Gen 2 CPA
We're kicking off our second generation of control panel applications (CPAs) with one designed for Canon imageRUNNER ADVANCE printers.
This Canon CPA is based on our all-new Control Panel Platform. It's available with our optional Pull Printing licensing, and provides secure-release printing that's easier and faster than ever before. End users can launch the app on the printer's display, view their pending print jobs, and quickly select the ones they want to print.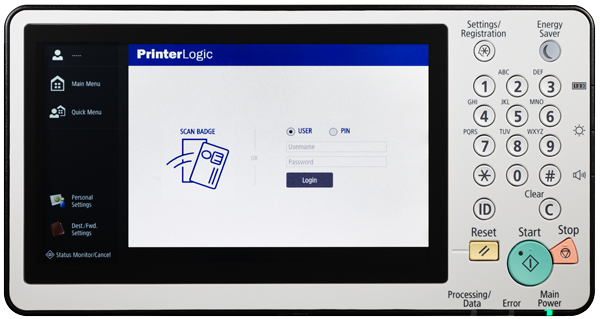 PrinterLogic's new Control Panel Application for Canon MFPs has a clean, intuitive interface and offers three authentication methods—swiping a badge, Username/Password, or UserID/PIN.
The most noticeable advantage of the new CPA design is that it reduces wait times between authentication and printing by 50% or more. Loading the CPA is faster, too, so end users will be less inclined to swipe their badge again to re-authenticate. On the backend, from an admin's perspective, CPA-related error messages offer more insight and there are improved troubleshooting tools.
A list of supported Canon printers is on our Control Panel Application Support page. Further Gen 2 CPAs will be released to support even more brands in the near future.
Super-scalable LDAP
Large organizations that make use of Active Directory (AD) will see a speed boost in Printer Installer 19.1. The latest version is able to handle multiple organizational units (OUs) with ease, and it's now possible to search across multiple domains. These developments also lay the groundwork for future integration with cloud-based identity services such as Okta, Azure AD, and Google ID.
Safari 12 (macOS Mojave) support
In its most recent macOS release (Mojave, 10.14.x), Apple changed the way Safari browser extensions work. This was done primarily for security reasons, which is great, but it ended up impacting the PrinterLogic user experience for our Mac customers. To address this shift, we've rewritten the Safari browser extension so that it now complies with Apple's latest standards while maintaining PrinterLogic's functionality and ease of use.
Updated Section 508 compliance
Speaking of compliance, we've updated the US Government Section 508 compliance that we introduced way back in version 18.1. The voluntary product accessibility standards (known as VPAT) have evolved since that release, which is why we've made Printer Installer 19.1 fully compliant with VPAT 2.x.
For more details on these features and the dozens of other improvements in this release, please consult the Printer Installer 19.1 release notes.
New features also in PrinterCloud
Fear not, PrinterCloud customers. Every new feature discussed here is already available in our SaaS solution.
If you haven't tried PrinterLogic, what are you waiting for? You're a trial install away from eliminating your print servers, saying goodbye to GPOs and scripts and implementing advanced functionality like mobile printing. Sign up today for our demo and test PrinterLogic absolutely free for 30 days.
Brian Wistisen
Brian has 20 years of product management experience in leading IT companies such as Intel, Symantec, CA Technologies, Dell, and SanDisk. He joined PrinterLogic as VP Product, where he leads a team focused on customer needs and product strategy. Brian enjoys working in his community to help mentor young men through volunteer service, athletic programs, and scouting. He has a B.S. degree in Business and Information Management from Brigham Young University, where he later received an MBA. He and his wife live in Saint George, Utah and have five children.