Posted by Andrew Miller on November 30th, 2015
"We are a growing company and expanding fast," said a spokesperson for a small-business financial services company. "We needed an efficient and fast printer solution."
So naturally they chose PrinterLogic.
Some time later, the independent research firm TechValidate followed up with them to conduct a case study (TVID: 522-2E0-1DA) on the company's experience with its new print management solution. Was it as efficient and as fast as they had hoped?
"PrinterLogic fit our needs and exceeded our expectations," said the representative.
Actually, that positive impression was formed right from the beginning, when the company fully installed PrinterLogic within just five days. That was no tiny print environment, either. It comprised as many as 249 networked printers and more than 26 print servers, all distributed across under 25 sites.
Then the real-world results started to roll in. End-user printer installation was radically simplified through PrinterLogic's intuitive self-service portal. The server infrastructure shrank—along with the resources devoted to maintaining it. Print queue management suddenly became easier, as did printer driver management, thanks to PrinterLogic's centralized, at-a-glance administration that makes print servers obsolete. Printers could now be deployed individually or en masse, manually or automatically, and without the need for cumbersome scripts or group policy objects (GPOs). Printer access was secured and convenient pull-printing functionality was implemented. Print-related WAN traffic was slashed through PrinterLogic's common-sense features.
Here are some of the cost- and time-saving reductions in hard figures:
Time spent on print management was diminished by 90%.
The remote server infrastructure shrank by 90% too.
Calls to the service desk on print-related issues fell by 70%.
Company-wide usage of print consumables was reduced by 30%.
Printer downtime also dropped 30%, increasing overall productivity.
Those percentages meant big returns on investment (ROI). The payback period after installing PrinterLogic was less than three months, and the benefits didn't stop there. The total ROI since that time has been over 100%.
This small business financial service company was so thrilled with PrinterLogic's performance that it rated the print management solution as "excellent" in every single available category. Specifically:
Printer driver management
Ease of deployment
Speed of deployment
Ease of use
Printing security
With such a fast and efficient print management solution, it should be no surprise that this company continues to expand quickly and efficiently.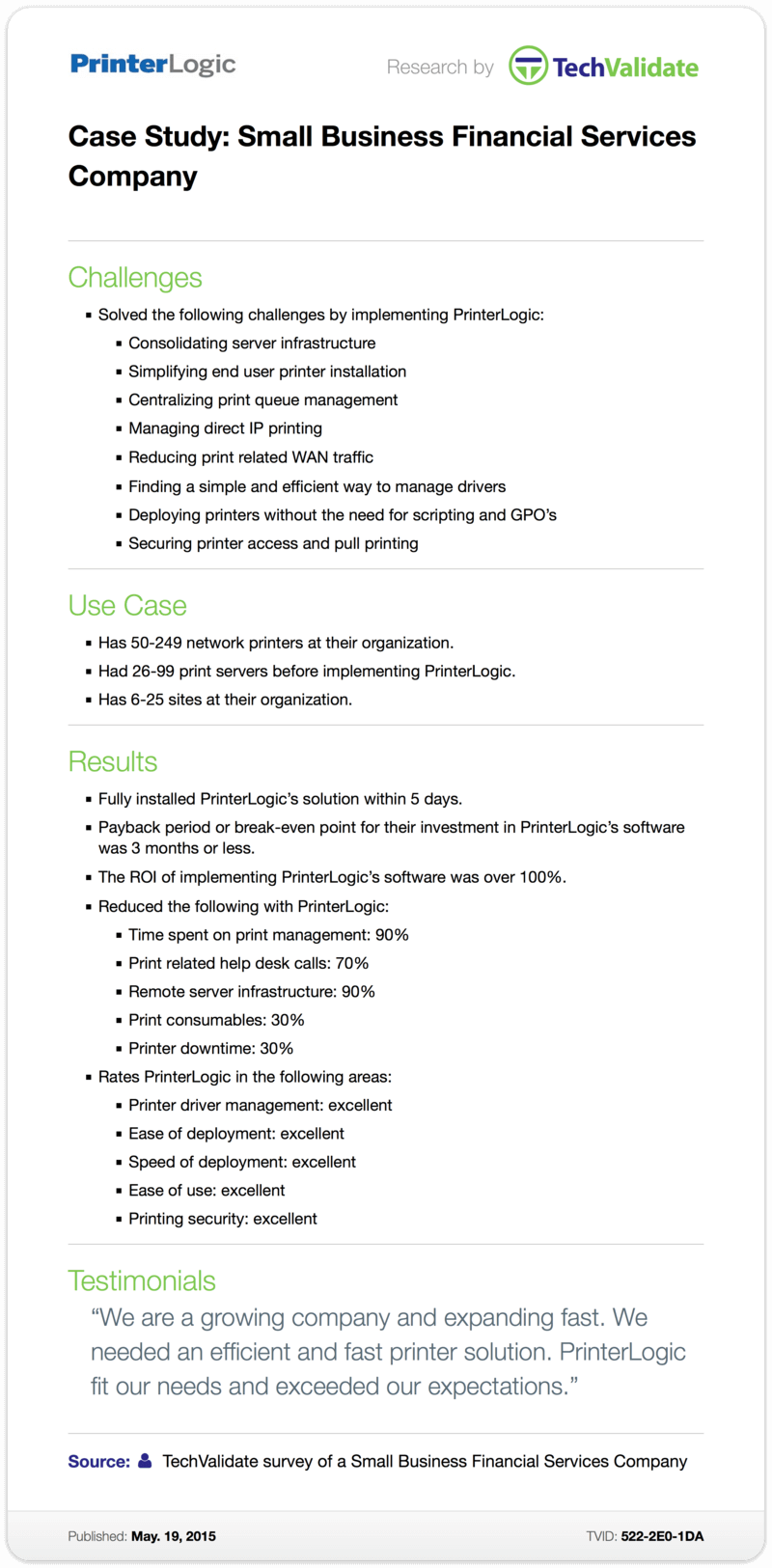 Andrew Miller
As Vice President of Marketing for PrinterLogic, it's my privilege to share our Eliminate Print Servers message through our marketing channels. We recently engaged TechValidate to survey our customers. The results were staggering: Almost 100% would recommend PrinterLogic; ROI over 100% for 88% of our customers; 99% report ease of use as great or better; 84% installed our solution in less than 10 days; and much more. Over the coming weeks and months, I will be sharing more results from the survey through our blog. I hope you enjoy the information. Don't hesitate to comment or contact us if you have any questions.