Posted by Shane Harris on May 8th, 2017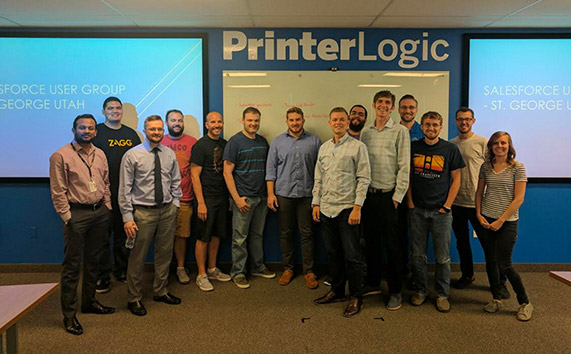 On April 11th, I had the opportunity to organize Southern Utah's first Salesforce User Group meeting at PrinterLogic headquarters in Saint George.
Salesforce.com is the world's largest provider of customer relationship management (CRM) software. We've used it here at PrinterLogic for years and it's been vital to our success. As we have networked with other organizations in the Southern Utah area, we found that multiple organizations in the area utilize the software and get as excited as we do to learn about new features and improve their implementation. It felt like the timing was right for a user group to be formed in Saint George. When I reached out to Salesforce, they agreed.
With the help of Salesforce, I established the Saint George Salesforce.com User Group. Our first meeting was over lunch and we had a great turnout. Multiple organizations in the community had representatives at the meeting, including PrinterLogic, SkyWest, iGlobal, SSA Technologies, and First Colony Mortgage. In addition to working professionals, we saw students from Dixie State University in attendance. Overall, it was a big success.
Salesforce.com user groups exist all over the world, but this is the first group in Southern Utah. We're excited that Salesforce gave us the opportunity to create the User Group and grateful to PrinterLogic for hosting the meeting. This is a big step forward for the tech community in our area, and a fantastic opportunity to learn about Salesforce, get training on new features, and network with fellow professionals.
Interested in joining? The user group is open to anyone in the public to join and participate. We will meet quarterly and lunch will be provided to attendees. If you'd like to participate, leave a comment below or contact me at shane.harris@salesforceusergroups.com.