Posted by Andrew Miller on September 21st, 2015
PrinterLogic is suited to a wide variety of different enterprise print environments throughout an equally wide variety of sectors. Education? Definitely. Banking and finance? Ditto. Manufacturing? Without a doubt.
So it might not surprise you to know that PrinterLogic is just as effective when deployed as a print management solution in the transportation industry. A recent TechValidate case study on one global 500 transportation services company (TVID: 541-9DD-B05) with more than 1,000 physical printers and 25+ geographic locations showed that PrinterLogic introduced a number of cost-saving, productivity-enhancing benefits over the traditional print solution it previously had in place. To name just a few:
The ROI after deploying PrinterLogic exceeded 500%.
Time spent on print management dropped by 70%.
The number of print-related service desk calls also dropped by 70%.
The remote server infrastructure saw a 90% reduction.
Use of print consumables was cut in half.
Printer downtime was slashed by 70%.
And the company fully recouped its investment in PrinterLogic within 12 months.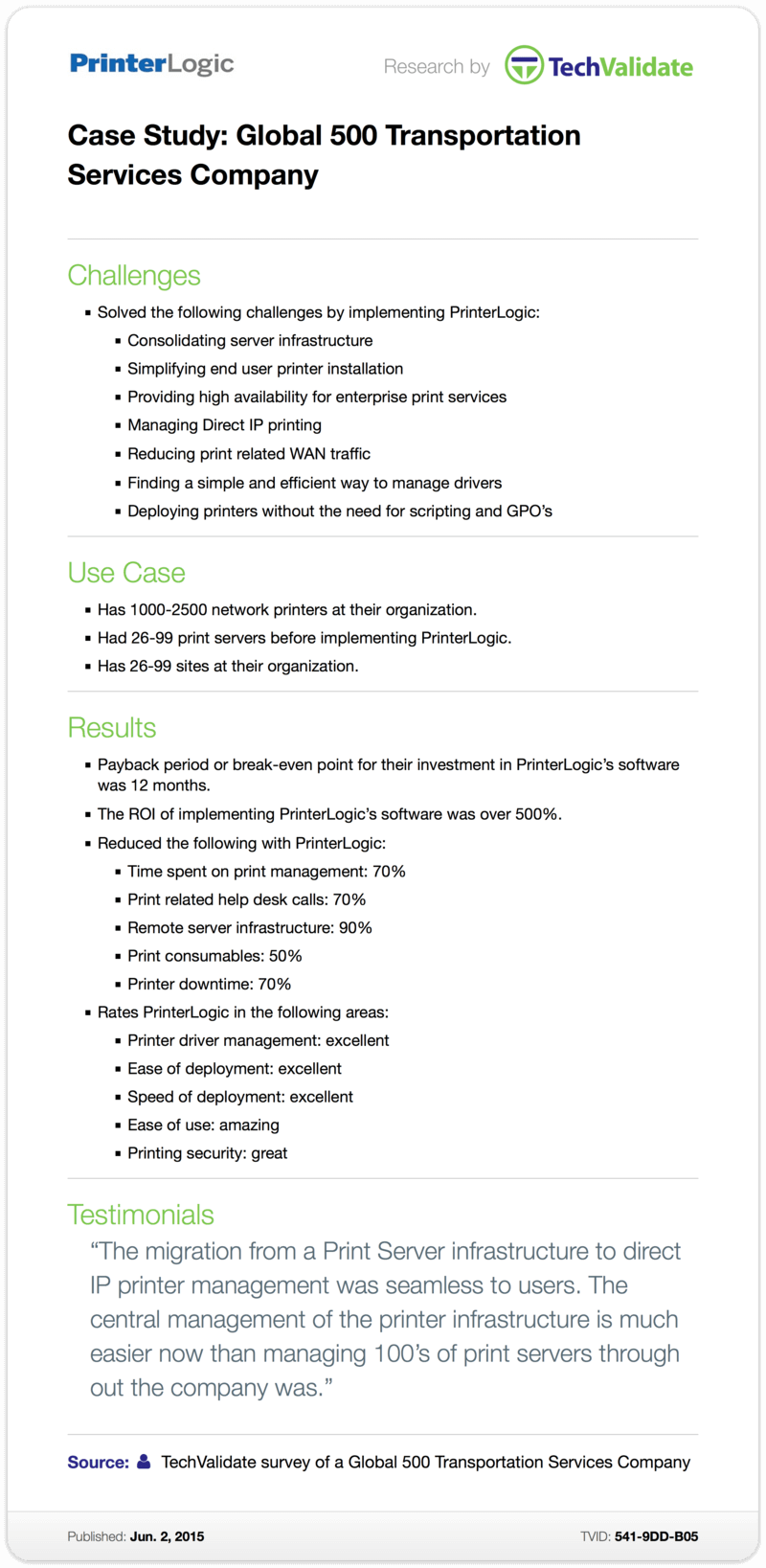 Results like that are possible because of PrinterLogic's seamless deployment, centralized management, effortless printer installation and powerful auditing features. This particular transportation company used PrinterLogic to accomplish a number of goals that had been elusive or downright unattainable with traditional print management solutions—such as deploying printers without the need for scripting and GPOs, reducing print-related WAN traffic, simplifying end-user printer installation, managing drivers simply and efficiently and maintaining high availability of the enterprise print services.
That means the company's employees can now make use of PrinterLogic's intuitive self-service installation portal instead of calling the service desk, and IT admins can deploy printers using custom settings and preconfigured drivers with a click. And it allowed the company to migrate to PrinterLogic's reliably rock-solid direct IP printer management, eliminating more than 25 print servers along with all their frustration and costs.
In real-world use, this transportation services company was thrilled with PrinterLogic's printer driver management, ease of deployment and speed of deployment, rating all three as excellent. The company also praised PrinterLogic's overall ease of use as well as its security.
"The migration from a print server infrastructure to direct IP printer management was seamless to users," said one IT representative for the company. "The central management of our printer infrastructure is much easier now than managing hundreds of print servers throughout the company was."
Andrew Miller
As Vice President of Marketing for PrinterLogic, it's my privilege to share our Eliminate Print Servers message through our marketing channels. We recently engaged TechValidate to survey our customers. The results were staggering: Almost 100% would recommend PrinterLogic; ROI over 100% for 88% of our customers; 99% report ease of use as great or better; 84% installed our solution in less than 10 days; and much more. Over the coming weeks and months, I will be sharing more results from the survey through our blog. I hope you enjoy the information. Don't hesitate to comment or contact us if you have any questions.