Importing Microsoft Printer Objects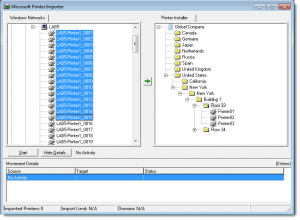 To import printer objects from Microsoft do the following:
Log in to the Printer Installer Administrator
Click the tools menu
Select Import, Microsoft Printers.  The Printer Import dialog will open.
In the left pane, browse to a print server and select the printer object(s).
In the right pane select the folder or create a folder in the Printer Installer tree structure where you would like the printers to be imported to.

If you would like to link a Windows shared printer to an existing Printer Installer printer, select the Printer Installer printer in the right pane instead of a folder.

Click the green arrow in-between the two panes.
The printers will then be imported (copied) to the desired folder.
Items copied:

Printer Name
Drivers
Comments
Locations
Printer profile settings (duplex options, paper trays, paper size etc)
Converting existing end user printers
You can have the Client automatically and silently convert end user's existing printer connections to the newly created TCP/IP printers.  To convert the existing end user printers do the following:
Open the Tools, Settings, Printer Conversions page.
Enable the Enable Printer Installer Client to Convert Microsoft Printers to TCP/IP printers option.

If you would like to restrict the printer conversions to a subset of the computers with the client installed, check the box marked Enable Microsoft conversion item-level targeting. Then click Show Filter and add the users, computers, OUs, or IP address ranges you would like to have converted.

Login on a computer that has the Client installed and the Microsoft printers will be converted.