Importing Printer Objects from eDirectory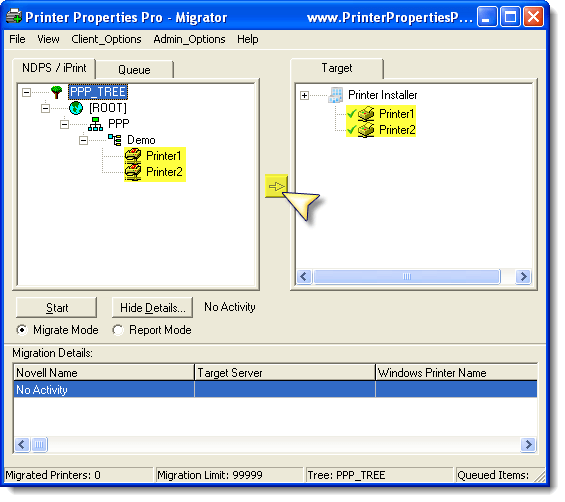 Follow the below steps to import NDPS or iPrint objects into Printer Installer.
Download (/dowloads/ppp.exe) the Printer Migrator product.
Double click on the PPP.exe and when prompted, unzip it to any folder.
Open the folder and run the PPPAdmin.exe, the "Product Menu" dialog box will open.
Click on Printer Migrator in the left menu or the Run Program under the Printer Migrator section in the main display.  The "Printer Migrator" program will open.
Click Yes, if prompted to start the queue.
Right-click on the Printer Installer node in the right pane, and then select Login Information. The "Login Information" dialog box will open.
Enter the same user name and password you use to login to Printer Installer.
Set the Server value to the URL or IP address of the Printer Installer Web server. Leave the Folder field blank unless you have to use a folder to access the Web application on your Web server.
Click Login. The tree structure from the Printer Installer tree is shown.
10.  Select a printer in the left screen (eDirectory browser), and then select a target folder in the right pane (Printer Installer tree), this is where the selected printers will import to.
11.  Click on the Arrow in-between the two tree browsers to place the import items into the migration queue. Make sure the queue Started/Stopped button is started.
12.  Each printer will go through 4 steps to be imported.  The current step will be shown in the status column of the migration queue.  Once the item has been successfully imported, it will be removed from the migration queue, and a green check mark will be placed next to the source printer in the eDirectory browser to indicate that the printer has been successfully imported.  Please contact support@www.printerlogic.com if you have any questions.
Note: To un-import the printer, right-click the printer and select unmigrate.  The printer will be removed from Printer Installer and the green check mark indicating the printer's successful importing will be removed.