Use maps to enable your end users to quickly find and install printers.   End users will see the map when viewing the portal, allowing them to simply click on the folder they want to install.  If a folder does not have a map specified the portal will simply not show the map and will still list any child nodes (folders or printers) on the page.
Adding a map to a folder
To add a map to a folder do the following:
Login to the Administrator
Select a folder
Select the Map tab
Click the Upload Background Image button
Browse to the desired background image file (.png, .jpg, .jpeg, .jpe, .jfif, .gif, .bmp, .tif, .tiff,)
Click Upload Image
Click Save
Once the file has been uploaded you will see the available,  objects to the left,  that can be dragged onto the background image.   Drag the printer objects to the appropriate location and click Save.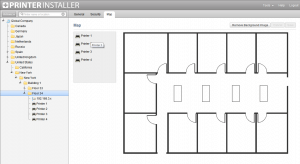 Note: Folder Objects and maps
You can drag folder objects onto a background image.   When end users click on the folder objects in the portal, the portal will select the folder in the tree.
Removing Maps
To remove a map from a folder, do the following:
Login to the Administrator
Select a folder
Select the Map tab
Click the Remove Background Image button
Click Save